KSJZ1500 Feed Pelleting Line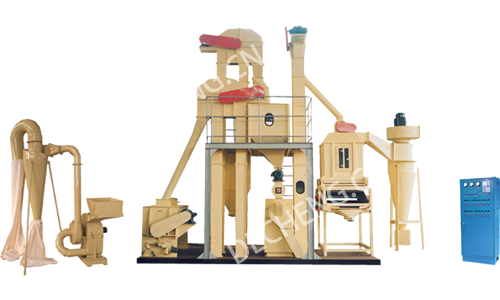 The KSJZ1500 series pelletizing line is capable of meeting various kinds of processing requirement of the small-sized feed mill, aquafarm, livestock and poultry farm, self-employed entrepreneur and compound fertilizer enterprise. Manufactured based on years of experience in the industry, the pelletizing line is typically used as an animal feed production line or a compound fertilizer production line.
This pellet production line is well received by customers at home and abroad. Besides small land occupation, the elegant appearance may bring you the unique visual enjoyment. Made of high-quality material, the performance of the pelletizing line is superior. For some machines included, we can offer more choices to our customers for their selection.
The pelletizing line is mainly composed of the:
Hammer mill, feed mixer(250kg/batch), bucket elevator, pellet mill, airlock, counterflow cooler, vibrating screen, draught fan, unloader, dust collecting chamber, general electric control cabinet , silo, air circulation system, pipeline, etc.
Delivery time
Generally, the delivery time for this pelletizing line is 60 working days. Due to the compact structure, this pellet mill line requires small land occupation. Therefore, it can be put in one container for delivery.
As a pellet mill and pellet production line specialist, we will designate our technical staff to assist the installation of the combination unit. What's more, the technical staff will also offer training to the customers on the usage and maintenance of the complete pellet production line.
Process flow of the pelletizing line
1. Feed grinding mill
2. Feedstock screener
3. Bucket elevator
4. Mixer
5. Bucket elevator
6. Tee joint

7. Finished powder warehouse
8. Silo for material to be pelletized
9. Pellet mill Bucket elevator
10. Conterflow cooling vibrating screener

11. Discharge hopper
12. Discharge hopper
13. Draught fan
14. General electric control cabinet
Technical Parameters of the pelletizing line
Production capacity
Granule: 0.5-1.5t/h
Size of granule : Φ2, Φ2.5, Φ3, Φ4, Φ4.5(mm)
Powder: 2.5t/h
Total power: 54kW
Overall dimensions (L×W×H):5000×4000×6500(mm)